MUSIC-RETRAITE "Being the Music" with Yoga & Qigong
Stefan Cartwright (UK) & Erik Huele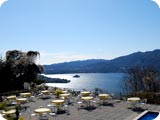 23 –25 October 2009, Hawkwood College, Stroud
Led by Stefan Cartwright and Erik Huele
Being The Music invites you to sing and play, to find your natural voice and develop your innate capacity for music in an open and supportive group space.
The three day retreat combines music improvisation with yoga, qi gong and deep relaxation to free body and mind.
As we quieten, we become receptive to the music within.
We will develop our capacity to listen, investigate the effect of sound and silence on our wellbeing, and develop our musicality using the voice and simple instruments.
Being The Music is open to all adults, regardless of musical background and experience.
Musical instruments You are welcome to bring an instrument or use some of the simple instruments provided, including the shruti box (drone instrument) and singing bowls.
For educatorsResona offers a simple approach to teach sound and music without having to be a trained musician.
Tutors Stefan Cartwright teaches voice work, yoga and improvised music throughout Europe. He sings and plays with the acoustic trio Bardo Muse. Erik Huele is an internationally known improvising pianist, composer and qi gong instructor. His website is at: www.taomusicandtrees.com.
Stefan Cartwright is the founder and director of Resona. He leads workshops and retreats in the UK and has taught in Croatia, Germany and India. He has worked with children and teachers, the homeless, people recovering from drug and alcohol addiction and patients with Parkinson's disease.
At the heart of Stefan's approach is yoga, a discipline he has taught since 1995. He trained with Dr Pete Yates of the Heart Yoga School and assisted New York based yoga elder and sound artist Don Conreaux. Stefan is a registered yoga teacher (RYT) and a member of the independent yoga network (IYN). His musical background includes creating and releasing his own compositions on the Mo' Wax record label and remixing the work of artists including Radiohead. In the late 1990's, as part of the artist collective Rechord he co-developed audio-visual installations which enabled audience interaction, play and creativity. This led to him presenting at several universities and at The Institute of Contemporary Art, London.
In 2007 he co-composed and sung on the debut album by Tambura, a seven piece improvising ensemble featuring voice, spanish guitar, double bass, saxophone, violin, harp and percussion. In 2008 his solo work Improvisations with Singing Bowls, Bells and Gongs was released on the newly launched Quiet Illumination label. It captures the subtle harmonic interplay of the instruments and has been described as 'beautiful and deeply calming'. Stefan studies Indian vocal music in the raga tradition with Pandit Barun Kumar Pal and has helped to bring some of the finest Indian artists to perform in the UK. He sings and plays shruti box with the acoustic trio Bardo Muse.